2013 will be the debut of the New "Classical AA/FC Group"! Hot off the success of our "Classical AA/GS Group", plans are to bring back true "Period Correct Appearing" ground pounding first to the finish line NITRO funny cars! This class will have the emphasis on the "SHOW" while having strict rules regarding gear ratio, blowers, mags and fuel pumps along with 1/8 mile racing to help control the expense of nitro racing. No high dollar blowers, no tricked out mags, just high percentage NITRO and plenty of excitement!
Introducing the Classical AA\FC Group!
Come with us as we step back into time, when the nitro funny cars were the true "showmen" of the drag strip! In the late 1960s and 1970s, the nitro funny cars put on the BEST SHOW in drag racing. When names like USA-1, Chi-Town Hustler, Mickey Thompson and Frantic Ford would WOW the fans with 3 foot header flames; smoky, half-track burn outs; and awesome, pre-run dry hops! Come watch these cars perform just like they did back then and see what MADE these NITRO funny car the undisputed KINGS of showmanship!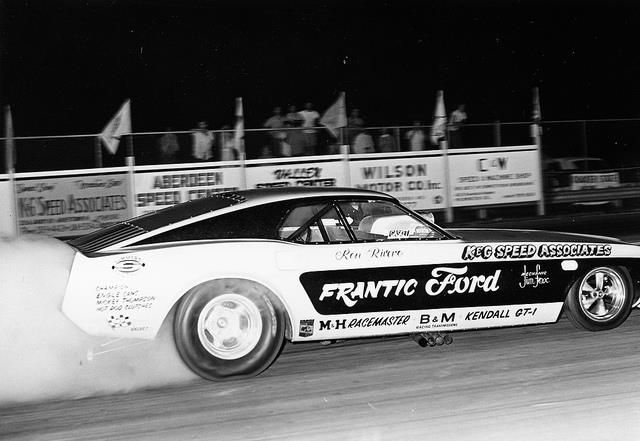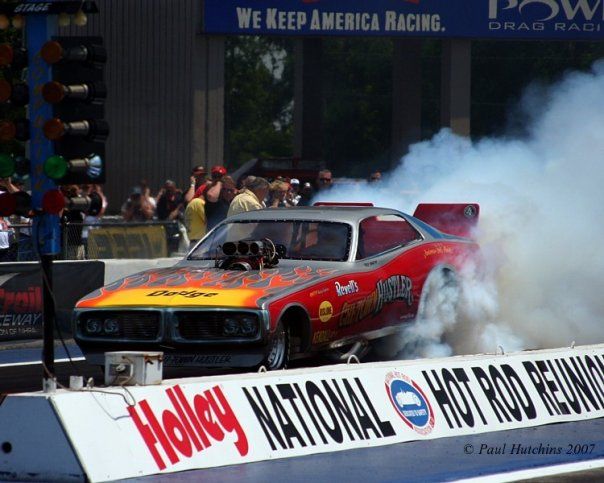 Classical AA/FC Goals
To have a class for Period Correct appearing, Pre-1977 Supercharged Nitro Funny cars. The intent is to bring to the fans, the excitement of the NITRO funny cars of the past. The goal to bring back: Loooooong, smoky, burnouts; huge header flames; and side-by-side, first-to-the-finish-line 1/8th mile competition. The show, and appearance of these cars is the number one goal. If any vehicle is considered "modern" in appearance, or violates the " spirit" of the Classical NITRO AA/FC group rules, it will NOT be allowed to participate. The engine & transmission combinations are made to keep the competition close, and still allow parts that are both reliable & cost effective to use.
Classical AA/FC Body Rules
1.
Body types must be pre-1977 and, in appearance, truly resemble a 'vintage' AA/FC car.
2.
Paint must reflect era of car. No wild, Pro-Mod style paint allowed.
3.
No rear spoiler higher than six inches allowed.
4.
All cars must have an appearance that is consistent with the spirit of a pre-1977 funny car.
5.
Original historical cars will be allowed up to 1979 bodies. Body MUST be the original and the paint and appearance must be same as the year the car was in competition.
Classical AA/FC Drivetrain Rules
1.
Minimum mixture of
nitromethane to be announced.
2.
Any block allowed (cast or billet)
3.
Any cast iron or aluminum heads allowed.
4.
Superchargers are limited to 6-71 Roots-type blower. No high-helix or retro blowers allowed. Maximum overdrive is 22%. Stock openings on bottom and top. Blower must retain exact dimensions of a stock GMC 6-71 blower.
5.
16 nozzles maximum. 8 hat and 8 port nozzles
6.
Fuel Pumps: Enderle 1100 pump or equivalent. No overdrive.
7.
Induction: Any vintage-appearing injection allowed (pre 1977) No "Big Uglies", Shotgun-style, Bird Catcher, or Barn Door injectors allowed.
8.
Magnetos: Limited to Vertex internal coil ONLY. 3 AMP maximum output.
9.
Throttle: No throttle stops, or any other electronic, hydraulic, or pneumatic device that affects throttle operation allowed.
10.
Driver Assist: No delay boxes, crossover boxes, two or three step rev limiters, or any other driver assist devices allowed, unless specified elsewhere.
11.
Transmission: Two-speed transmissions only. Each individual shift must be function of the driver. No use of trans brakes permitted. No air shifters, or any other electric or electronic means of affecting the shifting mechanism allowed.
Classical AA/FC Chassis Requirements
1.
Must have NHRA chassis certifications. ET's will be limited to Chassis certification specs (with driver included).
2.
Tires are not to exceed 34.6" X 16".
3.
Wheels must appear "Period Correct" (pre-1976). Wheels should be or have the appearance of ones made by Halibrand, American Racing, Cragar,
Ansen.
5.
Wheelbase: Minimum 90" wheelbase, maximum 120" wheelbase.